5 Tips for Writing a Great First Message for Online Dating Over 60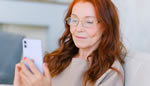 As a mature adult dating over 60, starting a conversation with a potential match can be daunting. A great ice breaker is crafting a first message that captures their attention and leaves a positive impression. Here are some tips specifically tailored to dating over 60 that can help you create that standout message.
Show your maturity and life experience

As an over 60 dater, you have a wealth of life experience to draw from. Use this to your advantage by showcasing your maturity and wisdom in your message. This will demonstrate that you are someone who is interesting and engaging to talk to.

Keep it concise and to the point

While it can be tempting to write a long, detailed message, it's important to keep your message brief and to the point. This is especially true for online dating over 60, as many people in this age group prefer shorter messages that are easy to read and respond to.

Be personal and genuine

One of the advantages of dating over 60 is that you know yourself well and are comfortable in your own skin. Use this to your advantage by being personal and genuine in your message. Take the time to read the other person's profile and find something that you have in common or that catches your interest. This will show that you are genuinely interested in getting to know them and that you have taken the time to read their profile.

Use humor (if appropriate)

Humor can be a great way to break the ice and show off your personality. However, be careful not to use humor that could be misunderstood or offensive. Keep it light and playful, and avoid anything that could be perceived as rude or insulting.

Ask open-ended questions

Asking open-ended questions is a great way to encourage a response and keep the conversation going. Ask something related to the other person's interests or hobbies that allows for a more detailed response. This will show that you are genuinely interested in getting to know them and will encourage them to respond.
By following these tips and tailoring your message specifically to dating over 60, you can create a message that stands out and captures the attention of potential matches. So go ahead and give it a try – you never know where it might lead!
Start Your Free Dating Trial Today
Look who else just joined